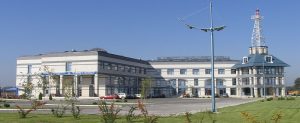 The campus in Slobomir, the new city near Bijeljina, enables students studying in very pleasant conditions, far from the city crowd, with a great peace. It is located on the Pavlovic's Road, on the highway Bijeljina-Belgrade, 500m afore the Pavlovic's Bridge
Bijeljina is the city and the seat of same municipality in the north-east part of the Republic of Srpska. It has a surface of 734km² and the total population is 150,000. The city is the municipality center and the historical seat of flat Semberija and mild foothills of Majevica. As a fertile plain city it is one of the centers for food production and trading. Bijeljina is recognizable by its spacious central square, and its beauty is additionally magnified by the pleasant ambient of the City Park. This is a city of youth and future. Step by step it becomes a very significant university center. The young are the main mark and to them belongs the future of this city, so today people invest a lot in the security and construction of the entertainment and cultural facilities. All the additional information about Slobomir and Bijeljina can be found on the website  http://www.bijeljinaturizam.com/.

The campus in Doboj is the ideal place for those who enjoy in crowd and turbulence of the city, because the faculty is in the very center, near the old fortress and the new modern park.
Nowadays, Doboj is a city with around 35,000 citizens and near 90,000 citizens on the area of the whole municipality. During the last years, Doboj became the modern, ordered and perspective environment, and it returned the name of the multiethnic, multiconfessionalist and multicultural community, which is also the administrative and traffic center of the region. Beside the city of Doboj, the area of the municipality consists of 89 inhabited places formed in 73 communities. More about Doboj can be found on the website http://www.opstina-doboj.ba/.